June 20, 2023
Celebrating Next Engineers students' achievements and passion for engineering  
At the GE Foundation, we are committed to transforming our communities and shaping the diverse workforce of tomorrow by leveraging the power of GE. As another academic year of our global college- and career-readiness program, Next Engineers wraps up and students prepare for summer, it's an opportunity to reflect on this year's accomplishments. We're so proud of the students and their achievements and want to spotlight a few from our Engineering Academy, including: Nigel A., Cincinnati, OH; Xanthe S., Staffordshire, U.K.; Hadley M., Greenville, SC; and Faiqa A., Johannesburg, S.A. Engineering Academy is a three-year program for students 15-18 years old that aims to deepen students' awareness of engineering and unpack their specific interests through design challenges, career readiness activities, and meaningful interactions with professional engineers. Their curiosity to learn, ambition, and willingness to go outside of their comfort zone doesn't go unnoticed and we're lucky to have them as instrumental members of the program.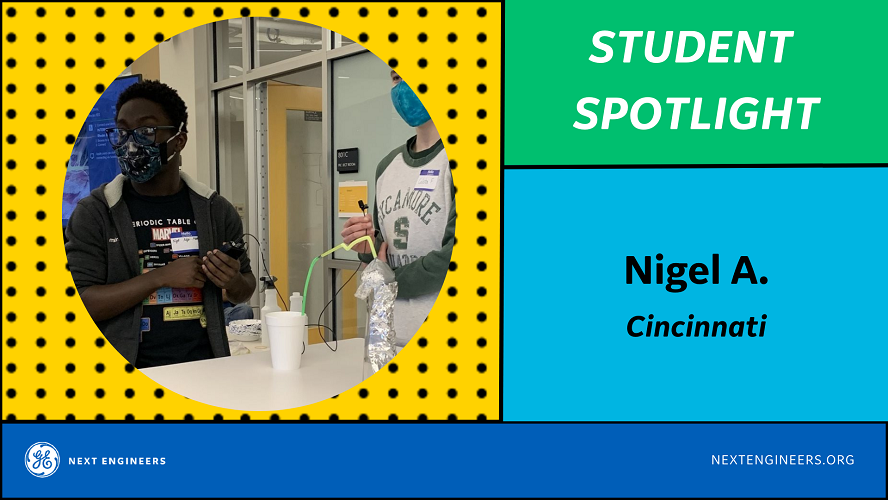 As someone who embraces and welcomes change, Nigel was interested in joining Next Engineers. This experience offered Nigel a chance to explore new technologies and tackle unique challenges alongside his peers. During the program, he has learned how to use the engineering design process and experiment with prototypes. One of the highlights for Nigel has been the interconnectedness he feels alongside his teammates and the ability to depend on one another to accomplish the task at hand. Read more about Nigel's story and his future career aspirations. Read more here.
In Staffordshire, Xanthe was able to gain clarity on what kind of engineering she was most interested in pursuing. After joining the program, she realized she wasn't alone and that many other students were also unsure about the options available to them – allowing her to gain friendships along the way. Xanthe's story shows how much she has enjoyed the program and her experience learning engineering concepts with her peers. Read more here.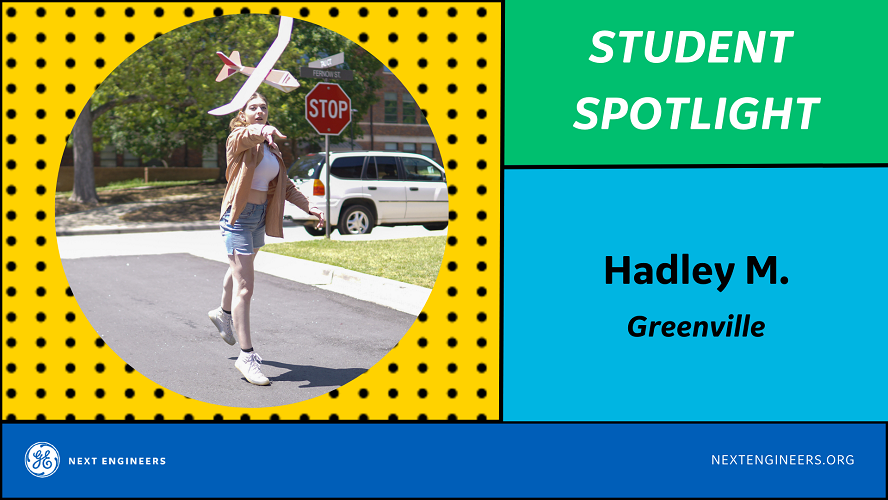 For Hadley, it all started after she watched Imagineering, a documentary explaining how attractions at Disney theme parks were built. After that, she was hooked and joined the Next Engineers cohort in Greenville to learn more and have an integrated hands-on engineering experience. Determined to become an engineer, she has learned the different fields of engineering and gained practical experience to help her map out the next steps for her future in engineering. Read more here.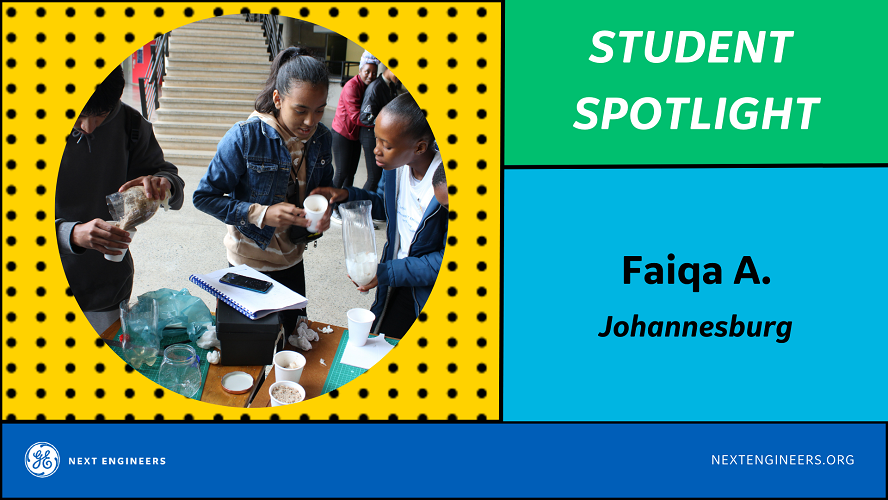 Faiqa's story began when she discovered she could combine her passion for baking and curiosity for engineering. After joining the Engineering Academy, Faiqa reaffirmed her passion for engineering and has enjoyed the opportunity to meet and learn from real-life engineers. She's found them to be inspirational and they have helped her understand more about the different types of engineers and what she might be most interested in pursuing in the future. She's also excited to see more female students join Engineering Academy and diversify the industry. Read more here.
The GE Foundation continues to help solve some of the biggest global problems by developing the next generation of engineers. We believe in a future in which students of all backgrounds are engaged in the engineering field early on and are equipped to solve the world's most pressing issues by harnessing their full potential. We look forward to Engineering Camp, a week-long camp experience for students ages 14 to 15 to learn about the engineering process, kicking off this summer and continuing to develop students in our four global locations in the school year ahead. Learn more at www.nextengineers.org.
###