March 06, 2023
Nigel is the kind of young man who likes a challenge. He likes to go the extra step – attending afterschool orchestra events, participating in online design competitions, taking extra classes in technology. It's no surprise Nigel joined Next Engineers: Engineering Academy last year.
A lifelong Ohioan, Nigel's favorite part of living in Cincinnati is that it's "consistently inconsistent – I like that things are always changing."
Nigel seeks out that continuous change: apart from the regular math & science classes, Nigel's also taken extra classes in technology, including web development and IT. "I remember being in a summer class with just a few other people, and we would code different websites – it was really enjoyable." Experiences like this are what led Nigel to apply for Next Engineers.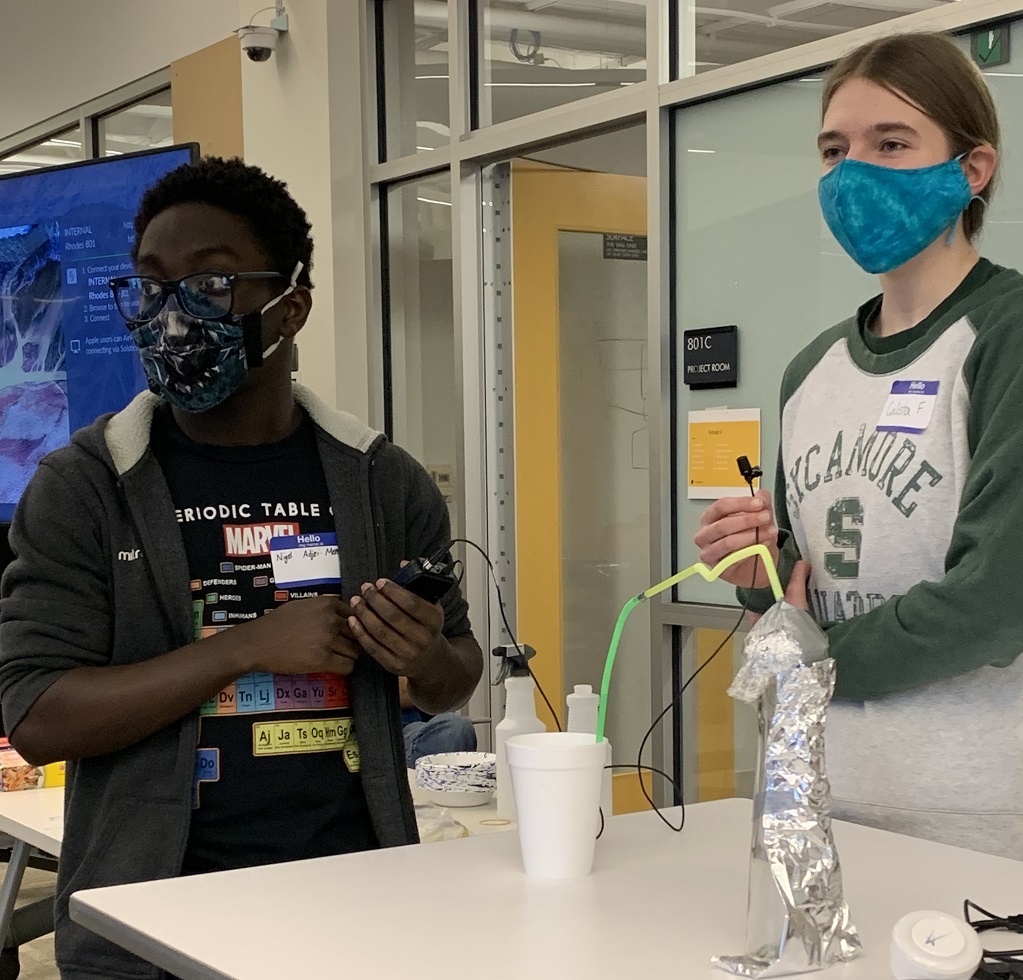 Looking back at his first year, Nigel shares, "My favorite part was our first project, the desalination project. That is still my greatest accomplishment in Next Engineers. That was the first time we'd met as a team, the first time we'd ever used the engineering design process, and the first time we had to do a presentation on our model. Working through that first project and finding different solutions was really rewarding. Our final model had a tea kettle desalinating the water into a milk jug, and one of my ideas made it into the final model. Not only did that model work the best for us, but we also won out of all the groups. So, our first win was pretty big for me – I enjoyed that a lot."
After every win comes a new design challenge. "When it comes to design projects, when you experiment with prototypes in that early stage, that's the most challenging. Right now, we're experimenting with making gliders. We have gone through a lot of prototypes that have not proven to work. The hardest part is trying to keep on conceptualizing and thinking of new models to find something that will work and satisfy the design requirements."
Teamwork
Nigel has found something he appreciates even more than a good challenge: a close-knit team. A violinist, Nigel shares, "When it comes to school, my favorite class is my orchestra class. The environment we've created in there really feels like a family. Even though we're all different, we're all there doing the same thing and it's playing music."
In Next Engineers, Nigel has found something similar not only with his design team, but with his entire cohort. At the beginning of the Engineering Academy, Nigel felt his team wasn't as connected as they are now, and his peers felt uncertain about stepping out of their assigned roles.
Now, Nigel says, "I like how all the groups don't feel separate from each other – everybody knows each other, we can all go to each other for assistance. We communicate well with each other. A couple sessions ago, my group and another group were testing each other's prototypes and giving each other tips on how we could improve and change minor things that were affecting our designs. One of my favorite parts is how we feel interconnected. It's a really fun environment now, everybody knows their strong suits at this point. People are willing to take initiative. We don't just stick to our assigned tasks – if something needs to be done, somebody in the group can go for it instead of waiting to be told. For example, I'm not the scripted designer for our group, but I've had to draw some designs for our prototypes."
Looking Toward the Future
Having an uncle who works with technology, and having been inspired by robots he saw when he was younger, Nigel has long been interested in robotics and engineering. But through Next Engineers, Nigel has met a variety of GE volunteers who have experience in many engineering fields. "We meet so many different volunteers and mentors, we get to learn a lot of different things that engineers do over the course of their day. They're able to give us tips and tricks on how we can be better engineers – not just now, but in the future as well. The most important thing, not only as an engineer but as a person, is to keep an open mind. The program has opened me up to a lot more options, so I'm not as tunnel visioned."
Nigel is also thinking about the big picture, about what the engineering field looks like now and what it has the potential to become. "Whenever you hear about college classes for STEM fields, it's most of the time really dominated by one side of the culture. I feel like more diversity means bringing in people of different genders and cultures and ethnicities because people from different backgrounds will have different ideas and different viewpoints.
Over time, I feel like that increase of diversity in engineering will grow into more change and innovation in the field. As long as that change is happening in a good way, it benefits everybody."
Where's Nigel hoping to end up? "I'd like to go to a well-known engineering school. It would be really cool for me to be able to learn how to make or program robots that can help people perform tasks they might otherwise find difficult to do on their own. Working on robots that help increase the convenience of everyday life would be amazing."
*
Learn more about Cincinnati's Next Engineers programs here.