March 17, 2022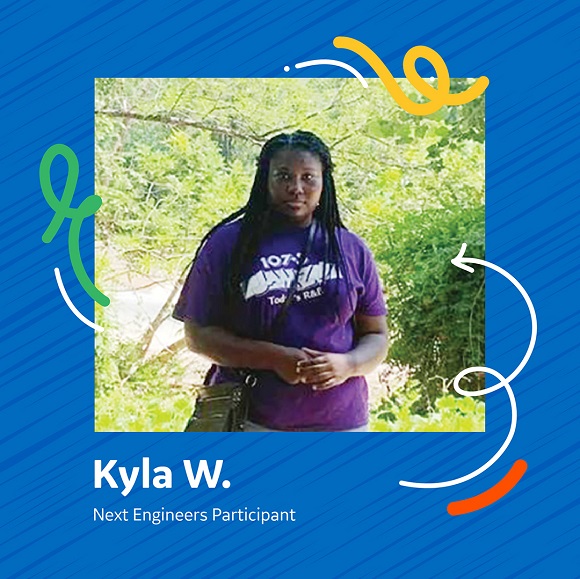 Kyla W., a member of the Greenville Engineering Academy's first cohort, is passionate about diversity in science, technology, engineering, and math (STEM). "Diversity matters. Representation matters," she said.
Kyla is a quiet and unassuming sophomore, who is a multisport athlete and is also excelling in her honors courses. She plays volleyball, track and field, and basketball. She likes to bake and watch Disney movies. She wants to be an engineer. She wears a Clemson blood donor sweater – when asked if Clemson is where she wants to go to college, she smiles and says, "Yes, ma'am."
Kyla was already interested in engineering by sixth grade. But, as a Black student, Kyla has not always felt represented in STEM spaces. "In most of my honors classes, there are few African Americans compared to other races. I remember being discouraged in my sixth-grade robotics class, where [I felt that] I didn't belong there. I don't want anyone to experience that."
Kyla's mother took her to a camp in Columbia, South Carolina, called EdVenture. There, she saw a giant model of the human body. She started thinking about how things worked, and learned about fields such as biomedical engineering.
Today, with strong support from her family, Kyla is excited about architectural engineering. She is inspired by her cousin Jalen, who is at Tuskegee University majoring in architecture. When asked what she'd like to do as an engineer, Kyla shared, "I'd like to help homeless people. I want to make sure they have shelter and anything they need."
Engineering Academy: A Diverse Learning Opportunity
When Kyla heard about Next Engineers, she said, "I felt like it would be a great opportunity not only for my future, but also for pursuing architectural engineering." Funded by the GE Foundation, the Engineering Academy includes a series of immersive design challenges, career coaching, and college-readiness workshops.
"The Engineering Academy has given me the opportunity to work with people from different schools," said Kyla. "Orientation day was my favorite moment so far because I was amazed to be surrounded by so many students with similar goals. I loved seeing the diversity as I looked at the Zoom panels. I felt special to have been selected to be a part of this program." 
Her cohort is working on the Bring in the Harvest design challenge, which tasks Academy students with figuring out how to harvest and store rainwater. "The project has given me the opportunity to be creative. I've had to collaborate with others and learn how to compromise on solutions. I've learned that I absolutely love research. Right now, we're trying to find measurements and a good structure of pipes so we can save more water." Her team must design within an imaginary client's needs and budget. "It's still pending, though," Kyla noted, as the Academy is just beginning.
Chelita Greenlee, Kyla's mother and a high school teacher, strongly supports Kyla's participation in Engineering Academy. "Her father, Charles, and I are very appreciative of this opportunity. Just seeing all the diverse groups of people, especially when you're in a rural area you're limited in your exposure – it's great that Kyla's able to meet with people in different areas and see the different opportunities and experiences. Hearing from them, hearing from professors at Clemson, that opens up a window of opportunity that's special, especially in this COVID era. It opens up a whole door."
"Representation is important," Kyla shared, "because you rarely see people like me, women, African American women, in engineering. If you're a little girl, and you see someone with your skin color, you have someone to look up to. I think people my age like to play follow the leader, and if we have more African American leaders, people my age will have something to aspire to. As I look at engineers such as [Clemson's Next Engineers Project Manager] Ms. Brittany Sanders who look like me, I know I do belong. I want to be that inspiration for others."
*
Find out more about Next Engineers Greenville here.