February 02, 2022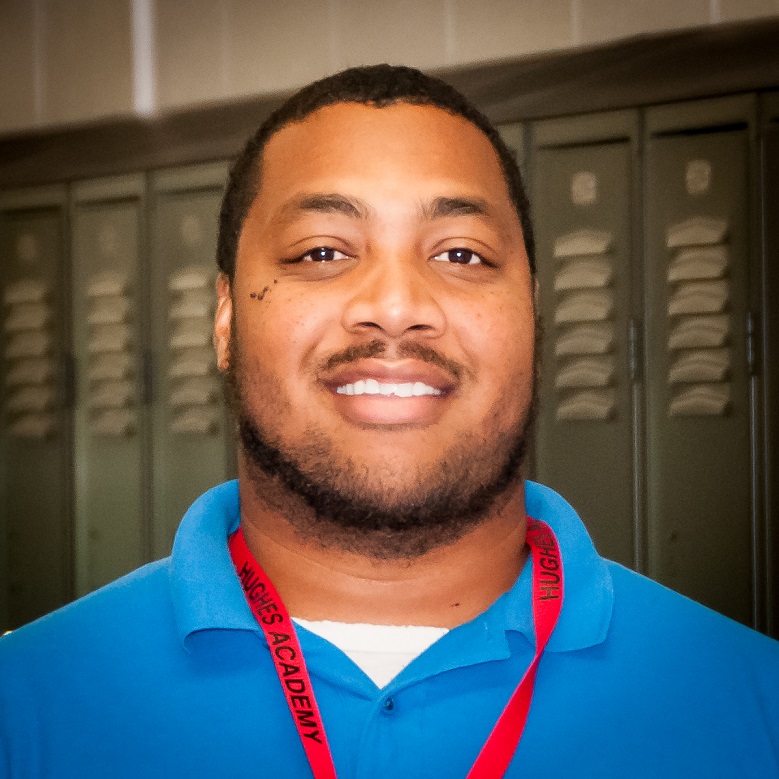 For Courtney Lilliston, the opportunity to partner with GE was a no-brainer.
Courtney has worked in the South Carolina education system for 15 years, counseling, teaching career development, and coaching basketball. He has been a counselor at Hughes Academy of Science and Technology in Greenville, SC, for the last five years.
Courtney's role at Hughes Academy is to help eighth grade students prepare to transition into high school and beyond through effective career development activities and exposures. Some examples of these career development exposures are Hughes Academy's Robotics and Medical Detectives courses, which allow students to explore and learn about careers in STEM fields. Courtney also works in his role to provide students with tutoring opportunities in math and science, as well as to plan industry tours with nearby businesses, including GE. When Next Engineers Greenville's community partner, Clemson University's PEER & WISE, approached Hughes about a potential partnership for Next Engineers, Courtney was eager to jump on board.
"When you're partnering with a corporation and an institution like GE and Clemson, you know, that kind of sells itself," Courtney remarked, "So I'm glad our students are taking advantage of it. And I'm glad our community is taking advantage of it, and I think we're going to see major dividends from that for our students as they move forward."
Building an Accessible Path to Engineering
As a middle school, Hughes Academy has already participated in three Engineering Discovery events, where GE volunteers join Next Engineers community partner Clemson PEER & WISE to run engineering demonstrations and hands-on activities with eighth grade students. By January 2022, Next Engineers had reached 653 eighth graders in Greenville. GE volunteers reported that they enjoyed sharing their personal stories, the activities were easy to follow, and students have been eager to engage.
Courtney believes the GE volunteers are crucial to the program. "A lot of our students are interested in engineering, but especially our young ladies, many of them don't think that it's actually possible for them," he said. "The average student is not going to get a tour of GE's facilities, either, so bringing GE to us gives these students a chance to see the diversity within engineering."
Courtney said that for many students, seeing is believing. "[It's] really big for our students. They get a chance to see somebody who may look like them and now that student can say, 'Hey, I can do that.'" As a counselor, Courtney sees how that moment of connection helps students move forward. "When another counselor or I talk with them, they know that we are actually telling them the truth. We're not just feeding them some pie in the sky dream."
"So," Courtney emphasized, "this partnership is monumental."
Watching students participate in Discovery activities has been eye-opening for Courtney. "I knew they were intelligent, and I knew that they want to learn. But the creativity, to see their ingenuity and their ability to create and think outside the box – I think that speaks to the future of our students." Next Engineers provides a space for students to do things that seem impossible, and, Courtney found, "They're able to give you a product that can just blow your mind." For Courtney, this is what makes his students stand out. "I don't want them to lose their creativity, so I'm gonna continue to push that," he said, and Next Engineers is going make an impact.
The fact that Engineering Discovery activities will continue in Greenville for years to come is essential. Courtney reflected, "I think with this partnership, as we continue to grow, the students continue to see these GE engineers come in and the engineering students from Clemson, and they build these lasting relationships. I think not only will that increase the numbers of students that want to be engineers, but when people ask them why they want to be engineers, they can articulate their reasoning a lot better."
The ongoing support of Next Engineers makes it something special for Courtney. He says, "This program is going to give the students a real opportunity to have realistic dreams and aspirations of being an engineer. That's a gamechanger for our students, because that can not only change them as people, but it can change the direction of their future. This program has the opportunity to make generational changes, which to me as an educator, that's so impactful."
*
Find out more about Next Engineers Greenville here.