Brittany Sanders: Greenville Project Manager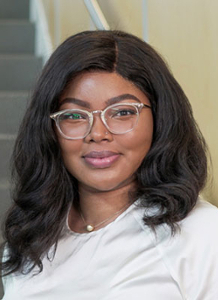 Where are you from? What is your educational background?
Walterboro, South Carolina
Clemson Alumna
Bachelor of Science in Industrial Engineering w/ minor in Mathematical Sciences
Currently pursuing a Master of Science in Industrial Engineering with a focus in Operations Research
Research: Understanding and addressing widened racial and socioeconomic inequality in academia through models and optimization
What do you do for fun?
Singing along to Disney classics with my husband and daughter
What are your personal goals with Next Engineers?
To gain valuable community knowledge and experience; I would like to better understand our students' needs at a local level. With the ultimate goal of effectively encouraging students to pursue careers in engineering.
What types of projects have you organized?
Engineering Discovery, Engineering Camp, and Engineering Academy. During each program we bring engineering to life for students by conducting interactive engineering design challenges facilitated by Clemson University College of Engineering Computing and Applied Sciences and GE employees.
What do you enjoy most about the program?
What do I enjoy most: Seeing students discover their inner engineer.
I'm very excited to see the long-term impact Next Engineers Greenville has on our local youth; we have so much more in store. Please let us know if you have any question about Next Engineers Greenville: nextengineersGVL@clemson.edu