February 23, 2022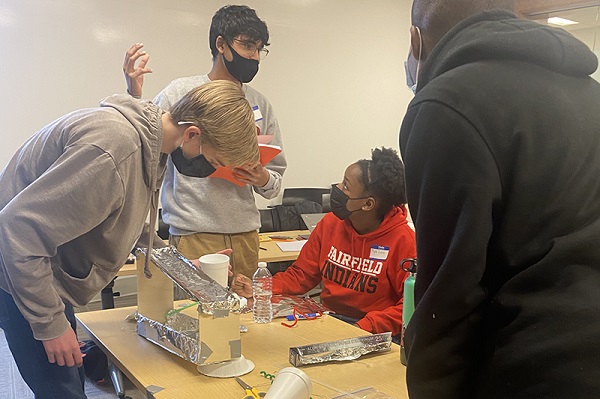 ---
Representation matters — especially when it comes to the people solving the world's most urgent problems. Engineers design climate-resilient infrastructure, create lifesaving medical technology, and ensure that people have clean water to drink. When engineers reflect the diversity of the people who are impacted by their work, their solutions are more effective.
To Mya L., 16, a sophomore high school student from outside Cincinnati, Ohio, representation is about making people feel comfortable in different spaces. "The way I think about it, I'm not going to take a class where I know I won't have any friends — where I'm just going to be quiet and uncomfortable and feel out of place. I want to feel like, 'I'm supposed to be here.' It makes the experience 10 times better; it's more fun and you learn more effectively."
Mya is one of about 200 high school students around the world taking part in the Engineering Academy, part of GE Foundation's Next Engineers, a global college-readiness program designed to increase the diversity of young people in engineering. Next Engineers — which is led by GE Foundation and coordinated by FHI 360 — exposes students ages 13 to 18 to engineering careers and concepts. GE engineers and other employees volunteer to mentor students and offer immersive, creative activities to expand their understanding of engineering. The initiative was launched in four locations — Greenville, South Carolina; Cincinnati, Ohio; Staffordshire, England; and Johannesburg, South Africa — and comprises three programs to engage students on their paths to engineering studies. Students who finish the three-year Engineering Academy are eligible to receive college scholarships to study engineering.
"Black engineers can face many barriers, such as discrimination and lack of access to quality, affordable education," said Tessie San Martin, CEO of FHI 360. In the U.S., for example, Black people represent 11% of the working population but only 5% of engineers, according to Pew Research Foundation. "When students engage with different subjects — and interact with professionals who look like them — they see that they can excel in whatever career they choose. Representation is an important step toward a more equitable world."
Mya comes from an academically driven family and has 10 siblings. While she considers herself more of an "English/history person," she was encouraged by her favorite math teacher to apply for the Next Engineers Engineering Academy program. She appreciates the program's design challenges, which are focused on solving real-world problems. For the first project, students are working on desalinating salt water to make it drinkable. "I'm always learning something new," she said, and she loves that the field is so broad. "Engineering intersects with everything."
Nigel A., 16, is a high school sophomore who is also participating in the program in Cincinnati. He is inspired by his uncle, who lives in London and works in science, technology, engineering and mathematics (STEM); his uncle has helped him with projects on the computer, like designing 3D models for a video game. Through Next Engineers, Nigel appreciates the chance to meet students from other schools, especially ones who share his interest in science.
"I like to hear their ideas, and it's fun to bounce my own ideas off them," he said. He believes that there should be greater representation in the engineering field. "I'd like to see more people like me taking an interest in the field and taking that first step. Next Engineers could help people gain the confidence to do that." He plans to study engineering in college.
Nearly 4,000 miles away, Patience A., 16, is participating in Next Engineers in Staffordshire, England. Her interests range from physics and chemistry to philosophy, and she is intrigued by the idea of using electrical engineering to solve environmental problems. She hopes to return some day to her home country of Nigeria to use the skills she builds in Next Engineers and beyond — and to show that "a woman can do the same job as a man, that you don't have to be a certain gender to do a certain job."
Patience notes that she has felt pressure to be a nurse or a midwife — jobs can be stereotypically labeled "feminine." "But I can be an engineer as well," she said. "It may take a long time. But I'm still going to get there."
---
Photo credit: Abdine A.M. Lewis/University of Cincinnati
This article can also be read on FHI 360's website.