May 11, 2022
Deborah Woods has a dream. Motivated by a keen interest in science and a desire to help people, the sophomore at Woodward Career Technical High School in Cincinnati, Ohio, has already set her sights on a career in medicine and bioengineering. "I want to help those in need, like my grandmother, and [develop] preventive technologies for heart disease and failure," she says. "I've learned that engineering isn't a one-size-fits-all field but has many channels to explore and create many innovative things to help make our world an easier and better place all over."
She's off to a good start. Woods is one of 50 high school students currently enrolled in the GE Foundation's Next Engineers Engineering Academy at the University of Cincinnati. The academy is just one of three phases of Next Engineers, a college-and-career-readiness program that GE has developed to increase the diversity of young people in the engineering field. The program was announced last fall and kicked off in four cities: Greenville, South Carolina; Stafford, U.K.; Johannesburg, South Africa; and Cincinnati, the headquarters for GE Aviation.
The GE Foundation is providing $5 million in funding in Cincinnati over the next five years in partnership with UC's College of Engineering and Applied Sciences. The focus is on bringing engineering opportunities to students in the most diverse and underserved areas of the community. Students must apply to attend the Academy; UC is providing staff to teach the classes, along with GE volunteers. In Cincinnati, GE aims to ignite an interest in engineering in more than 3,500 13-to-18-year-old students.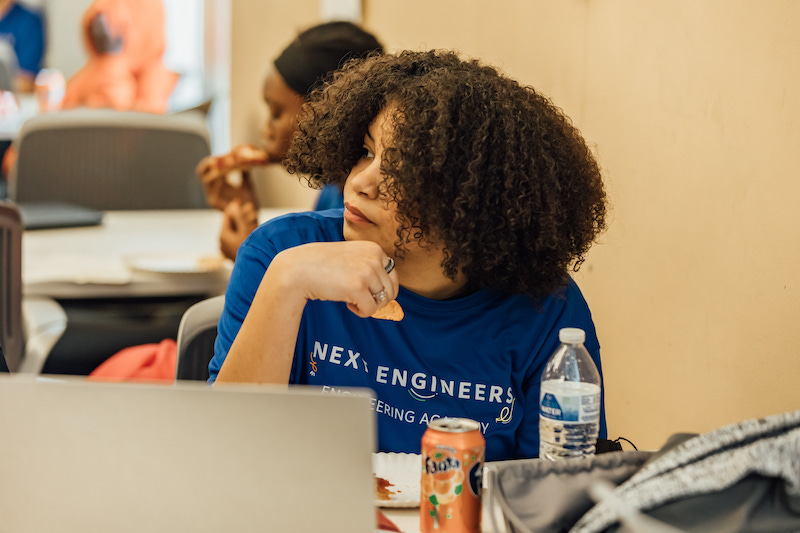 The Next Engineers Engineering Academy in Cincinnati started its first session in late January. Students meet on alternating Saturdays until late July, and the classes are a mix of instruction and hands-on work. UC instructors lead the students through a series of design challenges that range from a "water tower challenge," in which they must build a water tower that can deliver water to a paper cup three feet away in a controlled manner, to building a battery that can conduct an electrical current and light an LED bulb. Additionally, through a series of college and career readiness sessions, GE volunteers will introduce the students to GE, explain the wide variety of engineering jobs at the company and provide advice and mentoring for students as they contemplate pursuing STEM fields in college and beyond.
For the students in the first class of the Academy in Cincinnati, all of whom are sophomores, it's already been a valuable learning experience.
"What I like most about Next Engineers is the opportunity to meet like-minded, up-and-coming students such as myself in the engineering community. I love being able to listen and learn from those who inspire and look like me," Woods says. "The Next Engineers program will push me to the next level, as well as advance me early into my future engineering career."
"I like that there are not just classes for learning about engineering but also about preparing for college," says Isaac Cadena of Mason High School, "so when we become freshmen in college, we don't just go in completely blind and have to learn everything the hard way."
Marissa Kilby, who attends Seton High School, echoed that sentiment. "Next Engineers helps me work better with a group of people," she says. "The research and design skills I have learned will help me with future projects in the engineering program and in school."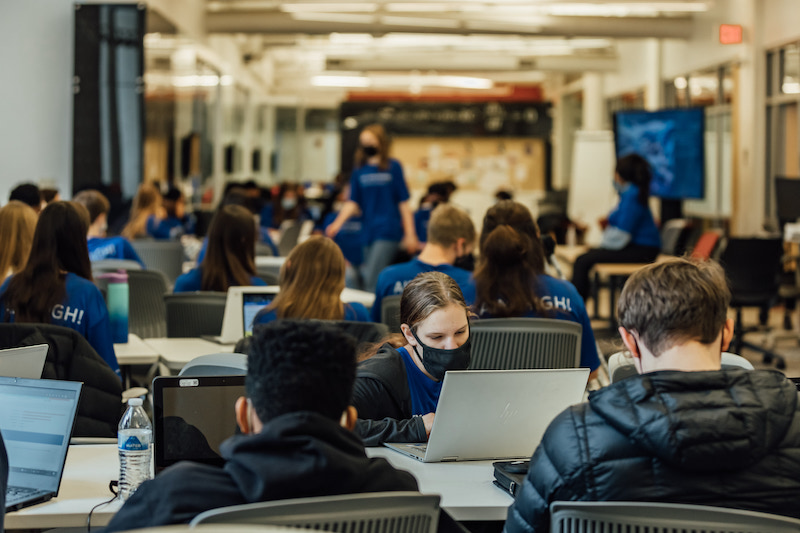 Joe Allen, chief diversity officer at GE Aviation, notes that while GE volunteers have donated thousands of hours to the Cincinnati community over the past 70 years, Next Engineers is an "opportunity to take our engagement in the city to the next level. We have a mission to inspire the next generation of change-makers."
It's not a moment too soon. Over the coming decade, the United States expects to add nearly 150,000 engineers to tackle the massive infrastructural challenges the country faces. And yet, according to the U.S. Bureau of Labor Statistics, as of 2020 only about 20% of engineers are from underrepresented segments of the population. This is why harnessing students' curiosity at a young age is so important. As Allen told Cincinnati Magazine earlier this year, "If students from those backgrounds aren't exposed to engineering before college, it can be really discouraging to step into a college classroom and not feel ready for that challenge."
Next Engineers aims to meet that problem head-on by stoking the interest of diverse students in middle and high school and encouraging them to turn that interest into a potential career. Students can follow three tracks, depending on their age: Engineering Discovery, a series of short, exploratory sessions for 13- and 14-year-olds that will use creative classroom activities to expand their understanding of what engineers (and engineering) can do; Engineering Camp, an immersive weeklong session during summer break for 14- and 15-year-olds, in which they complete design challenges and interact with engineering faculty and business leaders; and Engineering Academy, a three-year program designed to prepare 15-to-18-year-old students for postsecondary education. Students who complete the Academy and are accepted into a college-level engineering program are eligible for a GE Foundation scholarship.
Since October of last year, the GE Foundation has rolled out the Engineering Discovery phase at sites around the world, building on STEM education programs and partnerships that the company has already established in numerous communities. The idea is for GE volunteers to conduct sessions directly in classrooms and excite students about engineering and the Next Engineers program. So far, in Cincinnati, 107 volunteers from GE Aviation have logged 240 hours running 41 Discovery events with UC in seven area schools, guiding 2,262 students through a variety of engineering projects. 
Marvin Francis, a staff engineer at GE Aviation, served as a facilitator for one of the Engineering Discovery events in Cincinnati. "I'd float around the room to help the students," he says. Francis thinks that GE's Engineering Discovery events are already making a positive impact. "Just the fact that you have people of color, who look like the students, wearing GE T-shirts and saying, 'You can do this if you want to,' I think that's achieving the Next Engineers mission."
*
This article is originally published on GE.com: New Voices: Next Engineers Comes To The Classroom To Recruit Diverse Students | GE News