February 11, 2022
Editor's Note: The following story appears in GE's 2021 Diversity Annual Report, which can be accessed here.
Increasing the diversity of young people in engineering; that's the goal of Next Engineers, a new global college-readiness program offering hands-on opportunities to empower the next generation of young, diverse minds to build a better future, wherever their careers take them.
In 2021, GE launched Next Engineers in four communities globally: Cincinnati, Ohio and Greenville, South Carolina in the U.S., along with Stafford, U.K. and Johannesburg, South Africa. The program comprises three levels of learning for students on their paths to engineering studies:
• Engineering Discovery: Students (ages 13 to 14) build awareness about what engineers do through a variety of short, exploratory sessions led by GE engineers. Volunteers deliver creative, hands-on activities in the classroom or community to inspire young people and expand their understanding of what engineering is all about.
• Engineering Camp: Students (ages 14 to 15) are immersed in the engineering process through a week-long camp experience. Students interact with experienced engineering faculty, staff, and business leaders as they complete design challenges inspired by real‑world scenarios, building an identity as aspiring engineers.
• Engineering Academy: Over three years, students (ages 15 to 18) learn to think and act like engineers and prepare to advance to post-secondary education. With over 80 hours per year outside of school, the Academy includes a series of immersive design challenges, career coaching, and college-readiness workshops to equip youth with the skills they need to build an engineering identity and career. Students who complete the Academy and enroll in a post-secondary engineering degree program will receive a partial scholarship from the GE Foundation.
Meet Some of Our Next Engineers Volunteers
Cincinnati, Ohio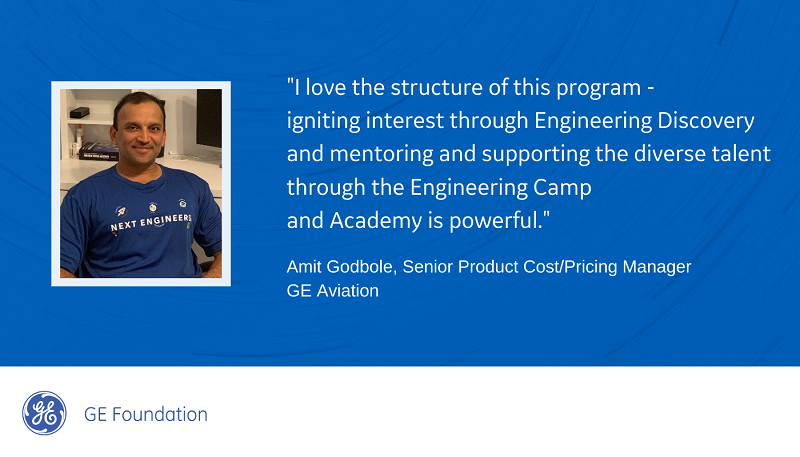 Greenville, South Carolina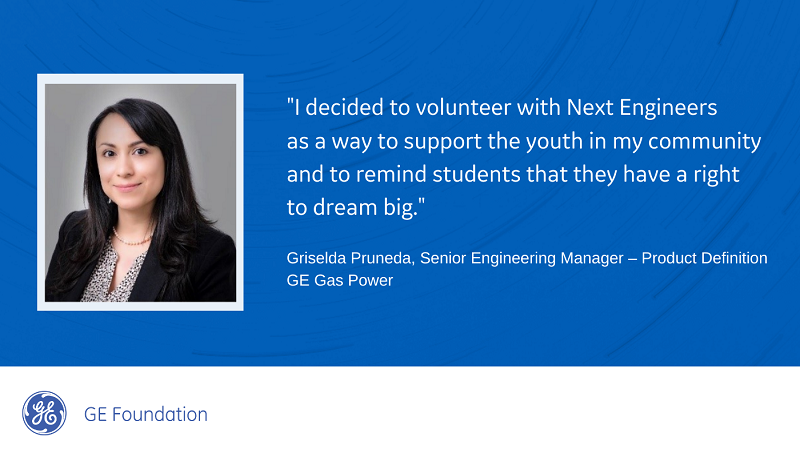 Stafford, United Kingdom
Johannesburg, South Africa
Next Engineers is a program of the GE Foundation, an independent charitable organization funded by GE. The GE Foundation has partnered with FHI 360, an international nonprofit, to implement the program globally. Learn more and follow our journey at www.nextengineers.org.