January 11, 2023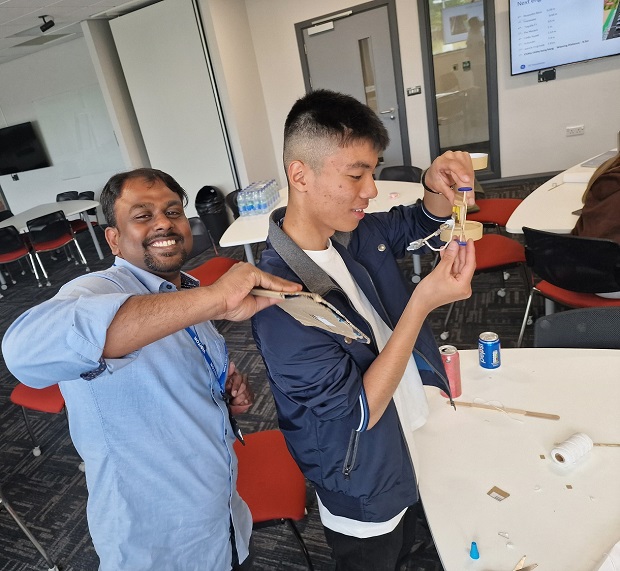 The Next Engineers: Engineering Academy in Staffordshire, U.K., officially kicked off in January 2022 with its first cohort of 50 students. GE Engineer Martin Singh has been volunteering with Next Engineers from the start.
Originally from India, Martin joined GE in 2011, taking different positions in GE Power and GE Renewable Energy. About a year ago, he moved to the U.K. to support GE's electrical grid business. 
We took some time to speak with Martin about his career and his experience volunteering with Next Engineers. Here's what he had to say.
[Interview edited for length and clarity].
How long have you worked in engineering? What made you interested in engineering?
Martin: "My father is a tailor, so if something was broken on his sewing machine, he would ask me to check that. If something like a light or a fan was not working, my father encouraged me to fix it. Even if I failed, he encouraged me try. I was happy to fix things. That made me interested, and fortunately I had the opportunity to learn engineering.
I started as a field service engineer in 2007. That job is very hands-on, visiting the site and meeting multiple people, exploring different cultures and traveling a lot. I like to do that, plus I learn a lot as an engineer in the field."
How did you first get involved with Next Engineers?
Martin: "When I was a teenager, I didn't have so many opportunities to learn about engineering and build my personal character. When I was trying to land a job, I failed at some places because of my social skills. I am an introvert and I couldn't speak up to people properly. During teen years is the perfect time to start working on these skills, things like communication and teamwork. When I landed in the U.K., I started reaching out for volunteer opportunities."
And Next Engineers was just getting started! That's excellent timing. Can you tell me a bit about the activities that you've participated in? What have you enjoyed?
Martin: "The [Academy cohort] built the mousetrap cars. Before they started, we explained to them about engineering and how engineers work on a project – what do they consider while designing and building? On the second day, we gave them the materials and helped them develop team spirit. We talked with them about resilience, too – if they have a good mindset, even if they fail multiple times, they'll come up with the best designs. Only with the team spirit can they do it.
There was an aha moment for me: When they started to design, I felt, 'what would I do? Could I do it or not?' I could feel their struggle. There was a lot of good discussion when they started their designs. I would wait, though, because we should not disturb their ideas. When you give your idea first, they don't think as much because you're the engineer, so they just take your word for it. It's better to wait for them to come up with their own idea. Once they start to build, that's where they need the help. I give some clues or suggestions about the different materials and testing procedures."
What has been your favorite part, going through these design challenges?
Martin: "The testing phase, after they have built their prototypes. They do the test first and it goes well, but when they test again it'll break. Then they're totally upset. One student might say, 'I told you not to test again,' and they come into some conflict or feel disappointment. That is where I can jump in and say, 'This doesn't only happen to you, it happens in the real world all the time.'
Talking the students through the real-world context of engineering testing – that it can take years to optimize a design – helps bring them back to the drawing board to consider what failed and why. Within 10 minutes, the team came up with a new car and succeeded very well! That was a good moment for me, to see how the students were changing their minds and were ready to learn."
What have you personally learned through participating in these events?
Martin: "I never had the opportunity to learn like this. So, when I'm volunteering with the Academy, I am very willing to learn. Nowadays, modern technology has changed and the thinking is different than what my generation was taught. They're so amazing! These teenagers care about things, whether small or big, they're really passionate and ready to change if they learn something new. It's a great learning point for me to apply to my work field."
The four points I always say I learned from Next Engineers are: 1) Always be a student, ready to learn, 2) Celebrate the wins – take five minutes to recognize success when you reach it, 3) Be willing to seek help – even if you have good experience, don't discount your team members' experience, and 4) Learn from the best practices – always apply what you've learned from past mistakes. This is what I've learned from the students this year."
The purpose of Engineering Academy is to immerse students in the engineering design process as they prepare for engineering at the university level. To what extent do you think the program does this?
Martin: "It's not just that the students are doing the hands-on activities, they also have to explain what they're doing and what they're learning. They have to come with presentations – at the beginning of the program, the students were afraid to speak in front of others. But now some of the teams' presentations are awesome. The facilitators were so good, supporting them so well to improve their presentation skills. That will help them when they're entering university."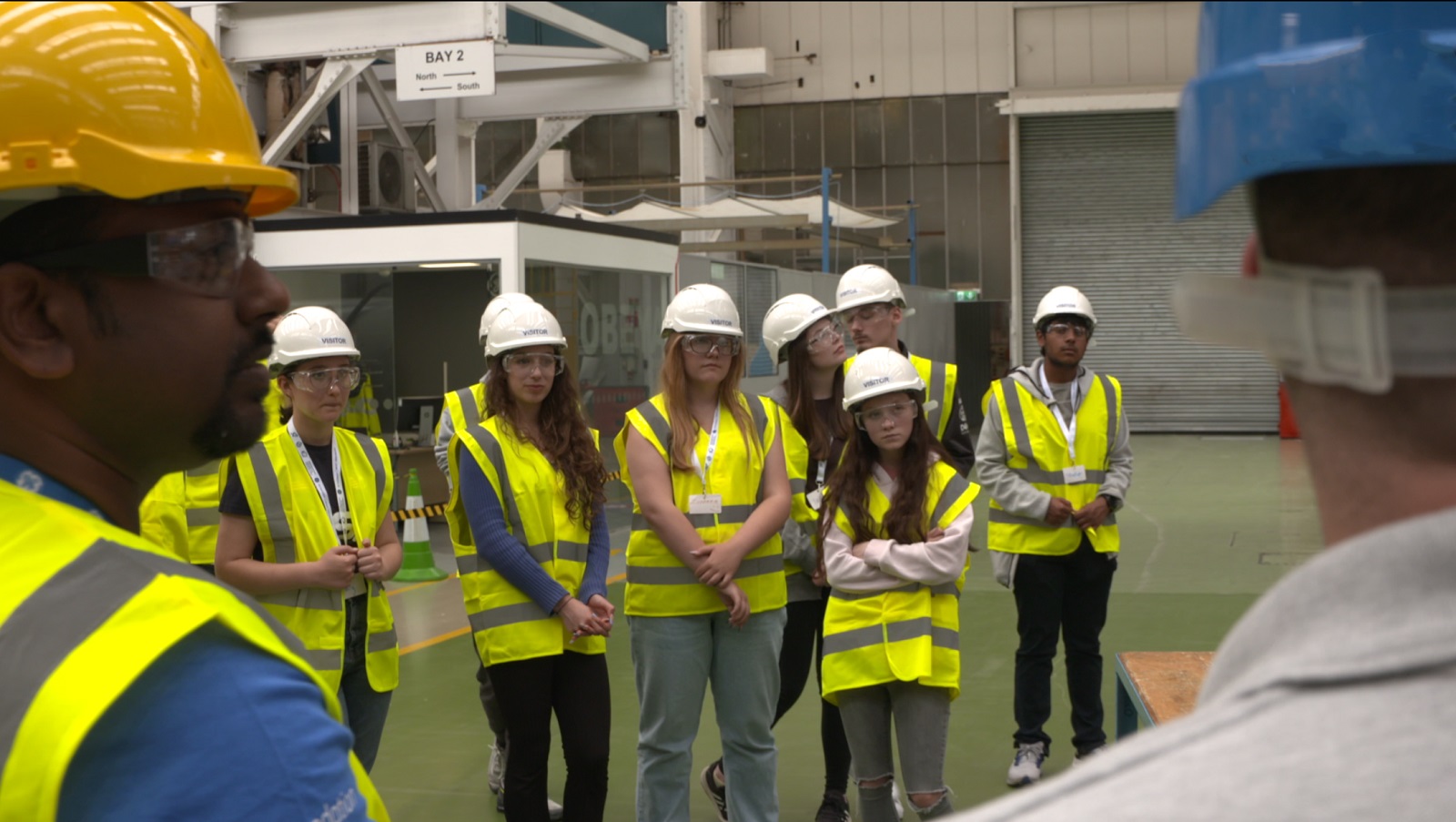 How do you think these Next Engineers activities benefit students in the classroom? What about outside the classroom?
Martin: "COVID put the students in a different situation. They had a lot of screen time. They have a lot of knowledge, so they have a lot of ideas, but they're afraid to share. But in Academy, they're in the classroom together. They learn how to share their ideas and how to support their teammates. I've heard them say, 'We were missing this last year,' and 'we're learning something new.' I see these changes in their behaviors as they learn to work together in person. This program is really helping them overcome those challenges."
What are you looking forward to as we enter Year 2?
Martin: "We shared a lot of feedback from Year 1. We're thinking of many points to improve for Year 2 to better help the students. Now we have really tested what works and what doesn't, so now we can adjust."
Applying the engineering design process to the program!
Martin: "Yeah! I encourage GE employees to participate! The students need your support. A struggle we found was, we'd explain different types of engineering roles, but we didn't have that specific type of engineer present along with us to talk about their work (For example: Mechanical, Design, Chemical engineers, etc.).
You can make a difference for sure – even if you spend 10 or 15 minutes on an online interview, that makes a life-changing difference for someone. Don't hesitate!"
*
Learn more about the Staffordshire Next Engineers program, including volunteer opportunities, on the Staffordshire webpage.