April 11, 2022
Staffordshire, U.K. - The Academy students attended a fantastic 4-day workshop over their spring break to work on the Spring Loaded Design Challenge. Supported by GE Volunteers, Engineering Experts, and Connectr Facilitators, the students were given the challenge of creating a car using a mousetrap!
There was a lot to learn about energy efficiency and elastic potential energy. Students were challenged with questions such as, "Do you think Electric Vehicles are key to reducing climate change?" and "What makes a car move?"
In teams, students were given the task of creating a car that would win in races in endurance and speed. This was not a simple task, as they found out. Using the mouse traps, they needed to design their materials to give their cars mechanical advantage. Students also worked through calculations to determine the overall efficiency of their vehicles in converting potential energy into kinetic energy.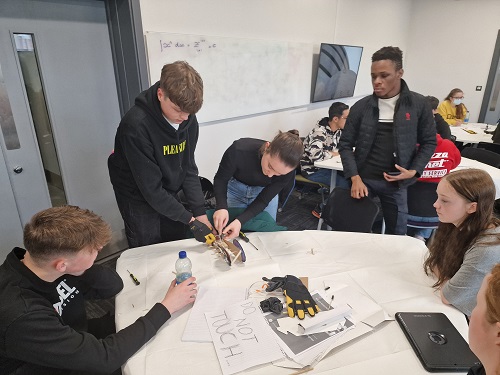 Through their four days, students also built on their University and Career Readiness opportunities by preparing interviews for several engineers who attended online and in person. The engineers shared a wealth of knowledge in Civil Engineering, Medical Imaging, Nuclear Medicine, Cybersecurity, Mechanical and Electrical Engineering, and Aeronautics and Astronautics as students asked their thoughtful questions.
A tour around Staffordshire University added to the rich knowledge experience. Students listened to lectures given by top professors in their field, watched demonstrations on energy sources, and learnt about the environmental benefits of wind turbines and solar panels. There was also a chance to experience VR technology, a flight simulator, and 3D printing available at Staffordshire University.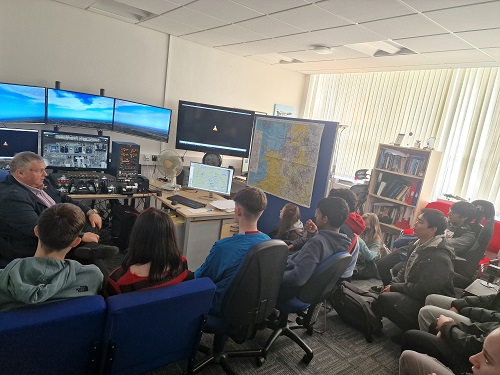 *
Want to share in the Next Engineers experience? The Staffordshire programme is currently accepting applications for Engineering Experience this summer, open to students in Years 9 and 10.